Bon Masks

3-layer protective mask made of 100% cotton outer fabric and one layers of Evolon 80 gsm, around 0.25mm in thickness 
(Washable, Re-useable, New nose strip design)
(Each of the masks can be washed up to 50 times)

Large    W22.5*L15.5CM
Medium  W22*L15CM
Small   W21.5*L14.5CM
Outer layer:100% cotton fabric from Taiwan
Middle Layer:Evolon 80gsm water-resistant ultra-micro fabric
Inner Layer on Face:100% cotton fabric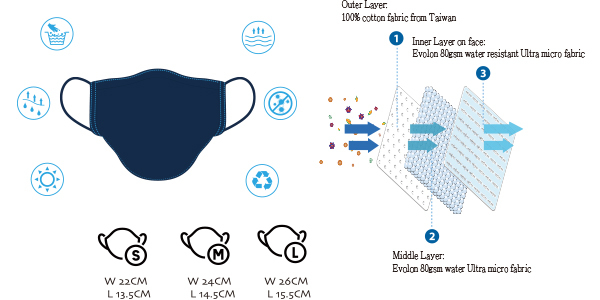 Evolon® Made in French
Evolon is one of German Freudenbery's performance materials produced with innovative technology. 
Evolon® Microfilaments and Evolon® New Generation super-microfilaments are up to 200 times thinner than a human hair,
Masks made of Evolon® can washable; breathable; good moisture management; UV protection; suitable for allergy sufferers.,
Free of harmful substances: Oeko-Tex 100, product class I, appendix 6 
(white base fabric)。
In the fight against the Covid19 pandemic
Some variations of the Evolon® textile material have been qualified for use 
as face masks to protect groups of people having occasional contact with others. 
This means these materials fulfill the required levels of particle filtration and 
air permeability defined in the AFNOR SPEC S76-001 French specification.
Additionally, Evolon® can be combined with other fabrics to create new composite materials f
or face masks. E.g. Evolon® light layer can be used for filtration properties, combined with a traditional fabric, for different visual aspects.
For pollen allergy sufferers
Pollens measure 3-200 µm. Masks made from Evolon® fulfill the filtration 
requirements of particles of 3µm. Therefore it can be assumed that Evolon® masks can help 
significantly decrease pollen allergy symptoms by preventing pollens from entering the nose and mouth.
Fabric suitable for community masks (or barrier masks) helping to fight the spread of Covid19,
according to French AFNOR SPEC S76-001:2020 and revised informative note dated 29th March 2020.
Disclaimers: Fabric mask cannot replace professional medical masks.


Oeko-Tex
Evolon® microfilament fabrics have been granted the Oeko-Tex mark (standard 100, product class I). 
This certifies that they are free of harmful substances and suitable for contact with baby skin.